Which Hillside Mower is Right For Your Commercial Business?
When you cut grass for a living, you need equipment that's dependable, reliable, durable enough to handle the heaviest of use, and able to do the job quickly and efficiently, at the lowest operating expense. That's what Kut Kwick provides for professionals like you. Since 1942, we've been providing mowing and cutting equipment that's earned us a global reputation for quality, innovation, and affordability, backed up by excellent customer service. We've become an industry leader in hillside mowing and brush clearing equipment worldwide, with many happy and satisfied clients. If you're looking for the best hillside mower or brush clearing machine for your specific application and budget, there's no need to look further than Kut Kwick's best mowers for slopes.
A Kut Kwick Slope Mower For Every Job
Kut Kwick currently produces three models of commercial slope mowers, and the best brush clearing mower on the planet, each with features intended to make it the best hillside mower for specific applications. To help you decide which hillside mower for sale is best for you in the particular types of projects your commercial business typically performs, read on for a quick overview of the specifications of each and what jobs they would be appropriate for.
SlopeMaster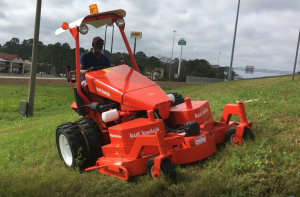 The SlopeMaster is the smallest offering in our lineup of Kut Kwick slope mowers for sale, but what it lacks in size it makes up for in big cutting power and its ability to work in areas that bigger machines can't get to. It features a 60" out in front cutting deck with rear discharge, 1.5" to 6.5" height adjustment and three 3/8" thick hardened steel blades turned by a 25 HP Yanmar turbo diesel water-cooled engine. It sports dual 8.5 gallon diesel fuel tanks for all-day mowing endurance and a top speed of eight miles per hour. This is a good choice for larger residential properties, smaller office parks, schools, and small public parks.
SuperSlopeMaster

This is the next step up in size for Kut Kwick's hillside mowing equipment. The SuperSlopeMaster has all the features of the SlopeMaster, but it's powered by a water-cooled 36 HP Yanmar diesel engine for plenty of get up and go on the slopes with a front-mounted 72" wide, rear discharge cutting deck. 19" x 6" puncture-proof casters support the cutter deck from the front of the machine. It is an excellent workhorse for retention ponds, large office parks, and roadside cutting; any job where you need a little more wide-area cutting capability and power.
MegaSlopeMaster

The MegaSlopeMaster is the largest of our hillside mowing equipment lineup, ready to handle the largest and most demanding jobs. It's currently the largest zero-turn-radius (ZTR) steep slope mower in the world. It boasts a humongous 88" cutting width powered by a water-cooled 72 HP Yanmar turbo diesel engine. It carries 14-gallon dual diesel fuel tanks on the front for hours of uninterrupted operation and 38" x 18-20", Ag tread tires for superior traction on the slopes. Perfect for the largest of jobs, such as airports, large parks, dams, landfills, rights of way, and highway mowing.
BrushMaster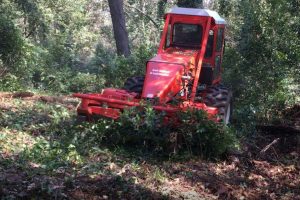 The BrushMaster is a brush clearing mulcher. It runs over brush and trees up to 4" in diameter, and then cuts it into small clippings that are left flat on the ground to naturally deteriorate. It features a 72 HP Yanmar, liquid-cooled turbo diesel engine, and a wide area 88" cutting deck, with adjustable 4"-10" deck height. Intended for parks and trails, survey lines, and other environmentally-sensitive areas, this heavy-duty land clearing mower is also the best tool for fire prevention.
All of Kut Kwick's slope mowers operate on slopes up to 40°, feature a tilting seat to keep the operator upright at all times, and a certified Roll Over Protection System (ROPS). The BrushMaster operates on slopes up to 32° and foregoes the tilting seat to allow for more comfortable operation in dense brush.
In summary:
Mowing professionals need the best slope mowing equipment.

Kut Kwick has a

slope riding mower

for every job

and terrain

.
Contact Kut Kwick Corporation for more information on our steep slope mower lineup.