How Our Industrial Hillside Mower's Zero-Turn Radius Sets Us Apart
Mowing a spacious property, or one with a steep slope is not easy. However, an industrial mower with a zero-turn radius that can mow on 40° slopes can put commercial business owners and government agencies at ease. If your business is using a traditional mower, an outdated mower, or one without a zero-turn radius, it is time to make a change for the better with the brand that offers the best commercial mower for hills: Kut Kwick.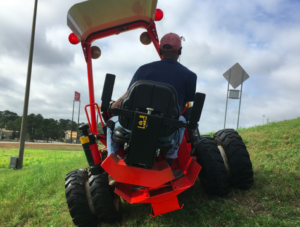 Kut Kwick Mowers Stand Apart From the Rest
Kut Kwick mowers are the sole zero-turn-radius industrial mowers on the market that can be used on land with a 40° slope. By using a Kut Kwick mower, you no longer need to be limited by using mowers that only go up to 30° slopes. 
Not only can you mow steep hills and slopes, but you can also mow more area in a fraction of the time.  Kut Kwick mowers allow you to mow all day long without leaving that slope! Additionally, the zero-turn radius (ZTR) allows you to be more efficient and effective, leaving no awkward strips of grass behind. Therefore, Kut Kwick mowers are revered throughout the industry as top-notch in all regards.
The Engineering Behind Kut Kwick Mowers
Kut Kwick's industrial zero-turn mowers are capable of cutting terrain that has up to a 40° angle, as they are purposely designed for this very purpose. All machines have a very low center of gravity and wide stance, ensuring they can grip slopes with surprising ease. Matching that with the skid-steer / ZTR drive system prevents potential damage to the slope that otherwise would have come with out-front steering wheels rather than casters that are found on the Kut Kwick mowers.
This combination of a low center of gravity and skid steer operation gives the Kut Kwick slope mowers a big advantage in capability, safety, and productivity on the slopes.
Maneuver With Ease on Slopes
It is a common struggle to cut vegetation on an incline, even if that incline is fairly minor. Kut Kwick engineers are aware of this problem so they designed mowers with a twin closed-loop hydraulic system for optimal response and maneuverability. This is exactly what you need to ensure that you remain in complete control of the machine while cutting on steep slopes. Keeping operators safe is always a top priority at Kut Kwick.
Additional safety comes from other systems built into every Kut Kwick mower.  Whether it be the SlopeMaster, the SuperSlopeMaster, the MegaSlopeMaster, or the BrushMaster, operators are protected with a kill switch should they leave the operator's station, a seat belt on the tilting seat, and a complete ROPS (roll-over-protection-system).  Kut Kwick's reputation for Safety is on par with their reputation for quality!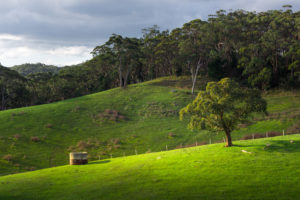 Mow Hilly Terrain in Full Confidence
Knowing that Kut Kwick offers the best zero turn mower for hills that can zoom right around objects even when mowing on a significant incline is even more reason to choose a Kut Kwick mower for your business or township property. The mowers' tractor tread tires maximize the grip on challenging slopes making slope mowing easy and accident-free. 
Key Takeaways:
The Kut Kwick mowers' zero-turn radius makes otherwise challenging mowing projects quite easy.

Kut Kwick mowers are the only zero-turn-radius industrial mowers in the industry that can take on 40-degree slopes. 

From steep inclines to undulating terrain and beyond, Kut Kwick mowers are capable of taking on just about any mowing challenge.
Get The Best Commercial Zero Turn Mowers for Hilly Terrain
If your commercial business/ government agency resides on a hilly property or has rough terrain to maintain, look no further than Kut Kwick's hillside mowers. Featuring cutting-edge mowing technology and engineering, our mowers are built better than the rest and ultimately stand the test of time. Contact us today by dialing (912) 265 1630 or by filling out our online contact form for more information about our industrial mowers.