How Kut Kwick's BrushMaster® Can Help Power Companies
Keeping electrical lines and power generators clear of brush is a never-ending task for power companies. The consequences of overgrown weeds, grass, and trees can be dire. Lines can be damaged if not kept clear, causing power outages. There also is the potential for fire. Having the right commercial mowers to clear brush is an important part of maintaining utility easements. Kut Kwick slope mowers and brush cutters allow power companies and government entities to maintain the most difficult terrain, reducing the chances of fires and outages.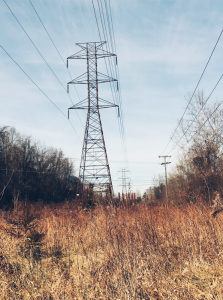 How the BrushMaster® Can Benefit Power Companies
The infrastructure of power companies is spread over wide areas and crosses all sorts of terrain. Power companies are responsible for maintaining their easements, and that poses a unique set of challenges. Electricity has to be provided to remote, rural areas of the country and easements can stretch for miles over lightly populated areas. Maintaining utility easements and keeping power lines clear is a significant challenge, but having the right heavy-duty commercial mower to maintain and remove brush can make all of the difference. A high-quality slope mower/brush cutter can be perfect for ditches near roadways, steep sloping terrain, and remote, hard-to-reach areas.
The

BrushMaster®

is a

steep slope mower

designed to clear property fast. In fact, it is up to 5 times faster than other heavy-duty brush mowers. For power companies needing to clear miles of brush, this is a great fit.

The BrushMaster® clears trees and brush up to 4" in diameter. This hillside mower pushes brush and trees forward and cuts them close to the ground. The mower then runs over the cut materials, cutting them again into small pieces that proceed through a rear cutting deck. What's left behind is small clippings that quickly decompose.

The BrushMaster® can handle steep slopes up to 32 degrees and is powered by a 72 HP

Yanmar

, liquid-cooled, turbo diesel engine. It is driven by dual hydro-static transmissions, allowing for the zero-turn mower capability needed to efficiently maneuver through dense brush.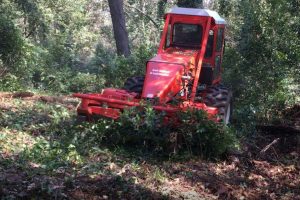 Benefits of Kut Kwick
Kut Kwick is among the best commercial mower brands for a reason. Our machines are built to have a long, productive life with minimal long-term maintenance cost. The BrushMaster® has a year warranty and can thrive in a year-round use environment. Kut Kwick is known for its high efficiency, low maintenance, steep slope mowers, and the BrushMaster® is no different. A Kut Kwick mower provides the performance, durability, and efficiency power companies are looking for.
Key Takeaways:
Power companies have unique landscaping and maintenance needs. The right land clearing equipment and mowers are needed for proper upkeep.

Failure to maintain brush has cost power companies billions in liability, caused power outages, and led to deadly fires.

The BrushMaster® brush clearing machine is faster than most comparable models, meeting the unique needs of power companies who must maintain easements that can stretch for miles.

The Kut Kwick BrushMaster® is a fast, efficient, durable

steep slope mower

that can handle difficult terrain and heavy brush quickly. It also comes with a year warranty!
Contact Kut Kwick for Trusted Brush Clearing Equipment Today!
If you have any questions or which to purchase a Kut Kwick mower, contact us by email or by phone to get the answers you need. We're happy to help answer any questions you might have before or after buying your Kut Kwick mowing machine. We'll make sure you'll be mowing slopes safely and efficiently!