Commercial Brush Clearing Slope Mower
The BrushMaster® riding brush mower was specifically developed to clear property quickly – up to 5 times faster than other heavy duty brush clearing mowers.
How it works:
This commercial brush clearing mower leaves an attractive appearance to the land, removing heavy brush and trees up to 4 inches in diameter. The BrushMaster cuts differently from our slope mowing machines. The land clearing BrushMaster pushes brush and trees forward, cutting everything close to the ground. Then it runs over the cut materials, re-cutting them into small clippings that pass through the rear discharge cutting deck. Subsequently, the clippings are left flat on the ground where they quickly deteriorate and fertilize the soil.
Power and Efficiency
Our brush mowing master also works on slopes up to 32°, and comes standard with a powerful 72 HP Yanmar, liquid-cooled, turbo diesel engine. This powerful engine drives three independent hydraulic blade drive motors. Additionally, it drives dual hydro-static transmissions. This allows the zero-turn capability that is so necessary for efficient clearing. The 88" front mounted, triple blade, rotary deck clears everything in its path, making the BrushMaster perfect for rights of way, parks, trails, survey lines, wildland-urban interface areas and the removal of brush.
Reliability
This brush clearing machine is so reliable that it is supported by a one year warranty. For highest efficiency, lowest labor, minimum maintenance, and longest life – get the BRUSHMASTER®!
- Creates a defensive zone to help prevent and fight the spread of wildfires by removing undergrowth that acts as fuel.
- Reduces undergrowth into small cuttings that lay flat on the ground, deteriorate in weeks, thereby fertilizing the soil
- Does not damage the environment
- Improvement of forested areas to create and maintain areas where appearances are important
- Prepare and maintain areas to be used by people (camp grounds, parks, nature trails)
- Preparing for development of property
- Preparation for sale of property
Able to mow all day without refueling in even the most demanding conditions

Adjustable tilting seat with suspension to keep the operator upright and comfortable

Four Point Safety Harness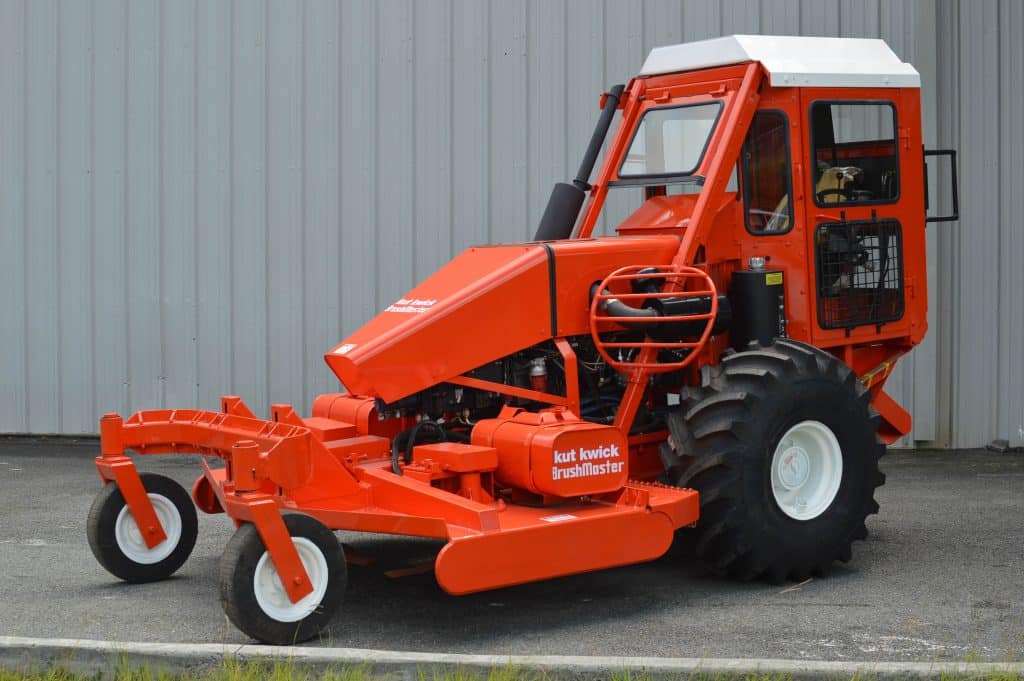 Rear discharge for reduced thrown object risk

Tip Up Stop to prevent the machine from rolling over backward

ROPS produces "cone of protection" in the event a machine does roll over sideways
Clears land quickly and efficiently!
Clears 1 1/4 acres in an hour or less
Cuts down everything except desirable trees over 4" in diameter - cutting all brush into small clippings that lay flat on the ground for appearances, leading to rapid decomposition.
Clears all of the heavy brush vines, palmettos, and small trees from forested areas – while complying with the environmental demands of protecting the larger trees for possible retention. This makes it the best brush removal equipment you can imagine!
Maneuverable "zero turn brush mower" that effectively clears the area, so that little or no hand labor is required A machine that requires very little industrial maintenance - while providing long life.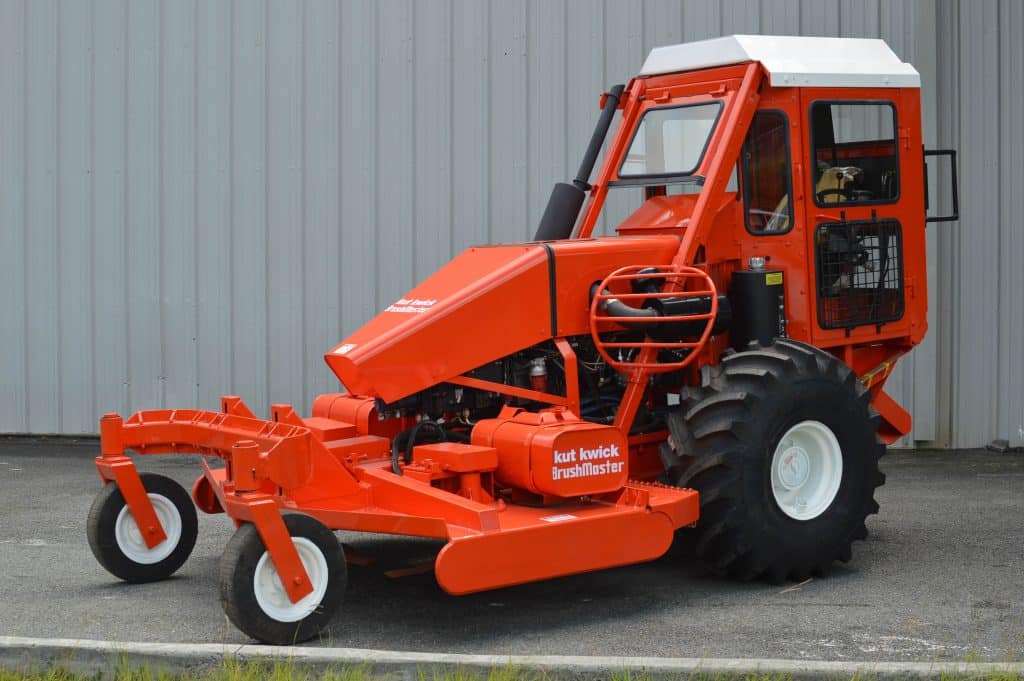 Land Clearing for Visual Improvement :
Land clearing for residential and commercial development
Lot clearing.
Clearing for recreational use, including parks, trails and campgrounds
Right of way vegetation control.
Environmentally Friendly :
The cut material mats the forest floor. This makes it passable for vehicles to travel over cut areas, which is an advantage over plowed areas. The root structure of trees and other plant life is not damaged by the BrushMaster. Root damage is the primary reason for erosion after prescribed burning and/or plowings. Typically, new growth is not readily flammable for about one year. Animals and birds can get to the ground to feed. In fact, they are attracted to and thrive in areas cut by the BrushMaster.
One of the most important results of clearing with the BrushMaster is land beautification. The appreciative public response to the beautification is of immeasurable value to the government agency that has done the work.
Slope : Slope mowing to 0° to 32°, designed and tested. Has a low center of gravity for safety on slopes
Engine : 72HP Yanmar Turbo-Charged diesel engine, water cooled
Blades : Three 1/2" thick flat blades, with 1.5" diameter shafts
Cutting Height : 4" to 10" height adjustment
Tires : 44" x 18-16", 8 ply rated tires
ROPS : Four point certified Roll Over Protection System (ROPS) with retractable seat belt
Oil Reservoir : 52 gallon hydraulic oil reservoir, oil/air separator, to prevent foaming, overheating, and water intrusion from condensation
Machine Weight: Base weight 6,500 lbs/Fully optioned 7,100 lbs
Steering : Self propelled skid steered through twin, closed loop hydraulic drive systems, electronically controlled with Komfort Kontrols joysticks mounted to armrests
Cutter Type : Rotary - 19" x 6" puncture proof casters support the cutter deck from the front of the machine
Cutter Assembly : 1/4" thick steel cutting deck
Maneuverability : True "zero turn radius" (ZTR)
Cut : 88" cut, hydro-static, rear discharge, out-front rotary
Seating : Operator is seated at the rear extremity of machine for safety
Hydraulics : Independently powered hydraulic skid steer wheel drives with hydraulic pumps and motors, and hydraulically driven cutter deck
Diesel Fuel Tanks : 28 gallon dual diesel fuel tanks on the front of the machine, away from the operator, designed to operate on steep slopes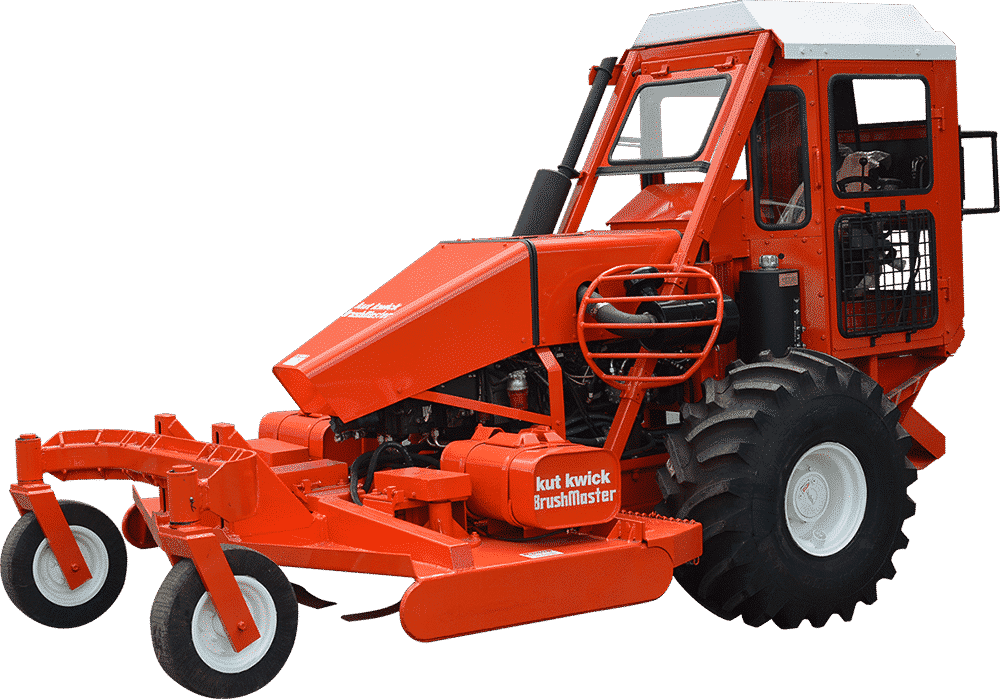 Cab protection enclosure :
Right and left doors with metal frames.
Expanded metal in the two door openings and the rear opening for protection from protruding limbs.
Screens behind the expanded metal to protect the operator from yellow jackets and wasps.
(with mar-resistant tinted lexan replacing the expanded metal and screens)
A recirculating closed system air conditioner to protect the operator from smoke and other contaminants.
Must purchase cab protection enclosure for the air conditioning upgrade. Lexan sheeting covered by metal guarding replaces the screens / expanded metal from the cab protection enclosure.
(all options are factory installed prior to initial delivery)