The 4 Principles of Kut Kwick's Hillside Mowers
Commercial hillside mowers are specialized to handle the steepest of slopes, but they are not all created equal. Kut Kwick mowing machines are a class above the rest in every aspect, ranging from durability through being the best manually operated mowers for slopes in the industry.
Principle #1: No Slope Is Too Steep
A Kut Kwick can easily handle a slope up to, and including a 40-degree angle. The secret is in the skid-steering mechanism that our best hillside mowers are built with, which can grip any slope with no problems whatsoever, and eliminate slope damage due to out-front casters opposed to steerable wheels. The SuperSlopeMaster has a low center of gravity that keeps it stable even on the steepest of slopes and the roughest of terrains. After all, safety is the most crucial concern when it comes to operating on steep slopes.
Twin closed-loop hydraulic systems grant both maneuverability and power to grip and mow steep slopes safely. The machine's safety is only further enhanced by the brake shut-off mechanism that is activated if the operator's station is vacated while the machine is running. Every SuperSlopeMaster comes with a certified Roll Over Protection System (ROPS) to protect the operator in the unlikely event of the unit rolling over. The retractable seatbelt ensures that the most rigorous industry safety guidelines are being met at all times.
Principle #2: No Terrain Is Too Rough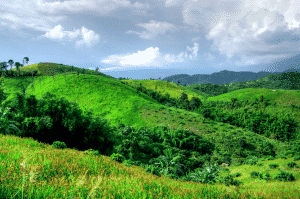 There is no landscape that a Kut Kwick cannot handle from heavy grass and weeds to light brush. A Kut Kwick all terrain mower can mow it all and handle anything through its machinery's strategic design.
The SuperSlopeMaster has three different types of blades that allow it to cut everything from areas of heavy growth to putting the finishing touches to your manicured turf via the use of high-lift blades. The cutting deck can be lowered to the perfect height for the task at hand and the rear discharge feature reduces the risk of thrown objects, reinforcing the "Safety First" design of the machine.
The unit's 17-gallon diesel fuel tanks are designed to prevent a fuel disruption that may occur when the machine – and its tanks – are driven onto very sharp slopes. This technology also provides the operator enough fuel for an entire day of cutting without the necessity of refueling.  
Principle #3: No Hills Are Too Much for These Blades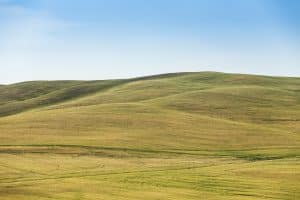 You know about the ease of operation that a Kut Kwick mower can provide, as well as the strength of its 36-horsepower diesel engine that helps it execute the job. The zero-turn-radius featured on a Kut Kwick allows easy maneuverability around any object that is in its path. Tractor tread tires help it grip to even the most aggressive terrains and steepest of slopes, while turf tread tires help maintain maximum drivability on less steep banks and slopes. The SuperSlopeMaster can handle any slope and topographic surface.
Principle #4: No Job Is Too Heavy-Duty
Every Kut Kwick mower is built to tackle any job, and although we've covered many of its features, we haven't captured them all. The SuperSlopeMaster can last an entire 8-hour work shift of mowing without needing to be refueled.
Also, the driver's seat can manually tilt to provide maximum comfort for the operator's point-of-view. Built-in suspension further adds to the operator's comfort. The machine continues to run because its hydraulic reservoir has an optimized oil/air separator that is designed to specifically prevent foaming, overheating, or even condensation damage protecting expensive hydraulic components, and a pivoting deck provides for an even cut.
Key Takeaways:
If you have a lawn or landscape with steep slopes and are looking for a commercial, heavy duty mower, you should consider a Kut Kwick mower like the SuperSlopeMaster–renowned as the number-one commercial land-clearing slope mower on the market. The best thing to keep in mind are the four core principles behind any Kut Kwick machine:
Built for slopes

Built for aggressive terrains

Built to cut

Built to last
Contact us–email or phone–to get the answers you need before you buy your Kut Kwick mowing machine. We'll make sure you'll be mowing slopes safely and efficiently!