3 Reasons You Should Choose Kut Kwick's SuperSlopeMaster
Do you have steep slopes that require mowing and maintenance, such as landfills, dams, retention ponds, or rights of way? If you answered yes, you may benefit from the Kut Kwick SuperSlopeMaster. Here are three ways in which the SuperSlopeMaster is the perfect hillside mower to ensure a quick and clean cut on your grassy slopes: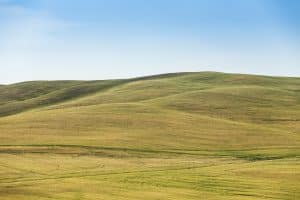 1. Stable on up to 40° Slopes
You can't cut grass quickly if you're constantly fighting gravity. The Kut Kwick SuperSlopeMaster is designed with a low center of gravity to keep the mower upright on slopes up to 40°. It has a static rating (sitting still) of just short of 56° before it tries to roll over. The steep slope mower ability to mow up to 40° slopes makes them leaders in the industry.
Standard features, such as our tilting operator's seat and Komfort Kontrols electronic steering, allow for maximum comfort and efficiency. Kut Kwick mowers are the only ZTR mowers in the world that can mow up to 40° slopes. The SuperSlopeMaster is safe, fast, and highly maneuverable.
2. Zero Turn Radius Operation
Every experienced commercial and residential slope mower operator knows that slopes are mowed transversely (horizontally), starting at the top of the slope. This prevents soil erosion and rutting and maximizes safety and slopeability by keeping the weight-bearing wheels over uncut grass rather than loose, slippery grass clippings. Kut Kwick mowers are true zero turn radius machines, so you never have to leave the slope, and are able to easily navigate around posts and other obstacles without sacrificing precious time or cut quality. 
Regular commercial ZTR mowers are not intended for mowing slopes beyond 10°-15°. Because of the way they are designed, it is possible and likely that an operator will roll the machine over if they attempt to mow anything steeper. This can result in severe injury, even death. The SuperSlopeMaster is built with an extra-low center of gravity, dual drive wheels, and a modified 36HP Yanmar liquid-cooled, naturally aspirated diesel engine. It has all the power and stability you need to get the job done for any and all terrain! 
3. Reduces Costs, Saves Time, and Increases Safety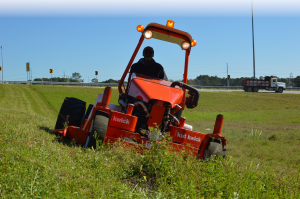 Is your crew tired of clearing slopes with weed whackers for days on end? The SuperSlopeMaster can do it in a few hours with a single operator, due to the machine design.
The SuperSlopeMaster can trim along the vertical edges of concrete at overpasses and walkways. The front-mounted deck with rear discharge reduces the chance of debris striking oncoming traffic. The operator is positioned at the upper rear of the machine, allowing maximum forward visibility, and keeping them as far from the mowing deck as possible. This can prevent a collision, running over hard objects that can damage the machine, and keep your operator safe. 
The Kut Kwick SuperSlopeMaster is built extra tough, with a fleet lifespan of 10-12 years, making the average cost of ownership among the lowest in the commercial mower industry. 
 Key Takeaways:
Superior stability on slopes of up to 4

0

°.

Superior maneuverability and ZTR operation.

Superior speed, efficiency, and safety.
Best Mowers for Slopes
Kut Kwick understands the challenging dynamics of today's economy. We have partnered with our vendors to make the SuperSlopeMaster available at very favorable pricing. Contact us today for more information or to learn about our other slope mowers for sale.