How the MegaSlopeMaster and SuperSlopeMaster Help Landfills
No matter what type of terrain you may be tending to, having the right tools is essential. For instance, when you are tasked with the upkeep of areas such as landfills, you must ensure that you are doing so with a high-quality slope mower, and other tools that will help you ensure that the area remains mowed to specification, and in great condition. With that in mind, the following is a closer look at how the MegaSlopeMaster and SuperSlopeMaster are the best choices for landfills.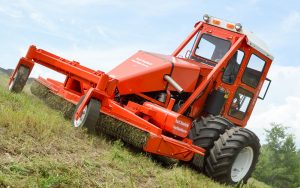 Benefits of using the MegaSlopeMaster and SuperSlopeMaster for Landfill Maintenance
Although each of these riding mowers works great on areas that have steep slopes, the MegaSlopeMaster is more commonly used to mow areas such as landfills. It provides users with the following benefits:
Biggest and best slope mowers – If you are looking for the best slope mowers, the MegaSlopeMaster is the way to go. This mower is bigger than the SuperSlopeMaster, making it preferable for those who are keeping large, sloped terrain. This heavy-duty commercial mower has an 88-inch cutting deck that is capable of mowing even the toughest growth on up to 40° slopes. This makes it ideal for areas such as landfills. 

Rough and rugged – Another major benefit of using the MegaSlopeMaster or SuperSlopeMaster is that they are built using 1/4″ steel members. This means that the deck is capable of withstanding impact from cut material as well as objects outside the deck. Moreover, the objects that are mowed over are discharged through the rear of the mower, significantly reducing the risk of thrown objects. This design is perfect for areas such as landfills and other areas that are commonly littered with debris.

World's Largest ZTR Land Clearing Slope Mower – Additionally, since the MegaSlopeMaster is the largest zero-turn-radius steep mower in existence, it makes it maximally effective. With its 88" cutting deck and 72HP Yanmar turbo diesel engine, it is the fastest and most efficient method of cutting major tracts with slopes and/or obstacles that need to be cut around. This makes it very helpful for those who are looking to clear and maintain areas in a short time.  

Smooth and rough terrain – With three blade options for both the MegaSlopeMaster and the SuperSlopeMaster, you can handle any terrain, from rough cutting to smooth finish. If you are dealing with grass, heavy weeds, or even occasional light brush, the SuperSlopeMaster is perfect. If small saplings and heavier brush are in the picture, you can't go wrong with the MegaSlopeMaster.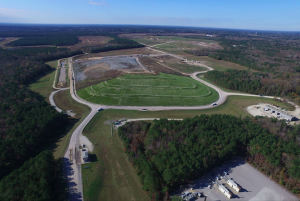 Key Takeaways:
If you are seeking the best slope mower, both the MegaSlopeMaster and the SuperSlopeMaster are ideal. For landfill mowing, both of these mowers are ideal for anyone who needs to manage a steep slope or any areas that are especially difficult to maintain. If you are keeping moderately large areas, you may want to go with the SuperSlopeMaster. On the other hand, if you are looking for something to help you manage a more massive area, the MegaSlopeMaster may be perfect for your needs. Either way, both of these mowers are high-quality, durable, and great for managing steep slopes.
Having the best mowers is essential for

closed landfill slope

and

landfill slope mowing

.

Both the MegaSlopeMaster and the SuperSlopeMaster are ideal for use in areas such as landfills.

The world's largest ZTR and clearing slope mower is the fastest and most efficient method of cutting widespread areas such as landfills, quickly and easily.
Contact Kut Kwick today to get started!