Tips on Properly Winterizing Your Hillside Mower
Kut Kwick slope mowers have one of the lowest maintenance costs of any similar machine available. Kut Kwick machines are designed to handle a robust, rugged workload while maintaining performance. One thing every Kut Kwick owner should do to ensure reliable performance and productivity is properly winterize the machine during the offseason. Winterizing is an important step to maintain the machine at a minimal cost, and it is essential for proper storage in areas of the country that experience cold, freezing temperatures. Below we will share with you how to prepare your Kut Kwick mower for winter.
Why You Should Winterize
Failing to winterize can cause what should be a long-lasting machine to quickly decline. Stale gas, moisture, and corrosion can damage the machine and cause various problems from rust to prevent system issues. Winterizing should be a seasonal routine to ensure your Kut Kwick machine lasts as long as it should and performs at a high, optimal level. Failing to properly store a hillside mower in the winter can result in hassles and headaches come spring.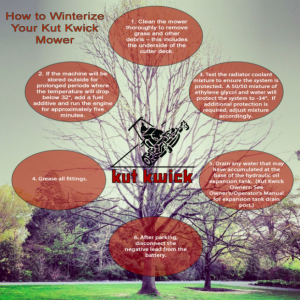 How to Properly Winterize Your Slope Mower
There are several important steps to take to winterize your Kut Kwick steep slope mower. Some of what you do depends on how you plan to store it. Below is your essential mower storage guide. Follow these maintenance tips to ensure your Kut Kwick is properly protected from the elements and emerges in the spring ready to do its job.
Thoroughly clean the mower. Make sure that grass and other debris are properly removed from the underside of the cutter deck. Moisture from grass clippings can cause corrosion.

If stored outside where the temperature will drop below 32 degrees, make sure to add a fuel additive and run the engine for five minutes.

Test the radiator coolant mixture. The mixture should be 50/50 ethylene glycol and water. This mixture will protect the system to temperatures of -34 degrees. If you need additional protection due to more extreme temperatures, adjust the mixture.

Grease all of the machine's lubrication points.

Make sure to drain away water that might have accumulated at the hydraulic oil expansion tank base. For help on this one, refer to your owner's manual under the expansion tank drain port.

After you park the machine in its storage area, disconnect the negative lead from the battery.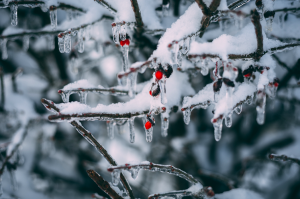 Protecting your Kut Kwick Mower
Nothing can quite maintain a piece of property like a Kut Kwick slope mower. Kut Kwick provides top-class machines to handle private, public, and commercial land management. Kut Kwick slope mowers are custom-designed for public and commercial land management. The machines are durable and can thrive in a year-round use environment. But, in areas that experience cold weather, winterizing is a must.
Key Takeaways:
Kut Kwick slope mowers are built to last, and winterizing is an essential part of proper maintenance.

Winterizing is a cost-effective part of

mower

maintenance. It takes little more than time to get your zero turn mower ready for the winter so that it is ready to take on

steep hills

in the spring.

Kut Kwick machines can thrive in environments that require year-round use. But, if they are to be stored for the winter, take the proper steps.
Contact Kut Kwick Today!
If you have any questions about Kut Kwick's steep slope mowers for sale, contact us by email or by phone to get the answers you need. We're happy to help answer any questions you might have before or after buying your Kut Kwick machine. We'll make sure you'll be mowing slopes safely and efficiently!