How The SuperSlopeMaster Can Help Schools and Universities
School and university grounds care is essential to "seal the deal" with incoming students and their parents. Kut Kwick's SuperSlopeMaster is a reliable and safe riding mower for the maintenance of beautiful grounds on your school campus.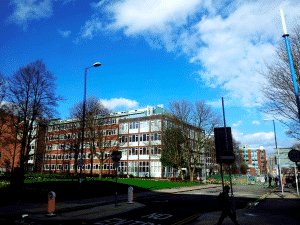 Students choose their school after campus visits.
Nearly all students want an on-campus visit to confirm their decision. Even in the digital age, high-touch experiences such as an overnight stay in a dorm, a campus visit for an interview, a tour, or an open house are an essential complement to digital recruitment methods. Applicants who spent a day on campus were twice as likely to be able to see themselves as future students at that institution. 
The physical walk around the campus is the highlight of every campus visit. What unfolds on the walk drives the student's decision and the parents' consent. Having tidy grounds that look inviting may measurably sway enrollment decisions.
What makes Kut Kwick the premier choice for
university grounds care
?
Lawn care with the best commercial lawn mowers from Kut Kwick is a reliable, cost-effective, and safe choice for the maintenance of beautiful grounds that encourages admissions and maintains school revenues in difficult times. We're experts on the best way to mow a steep hill, and this expertise is reflected in how we build our mowers for schools and universities.
All Kut Kwick hillside mowers for sale are efficient and offer safe solutions to your landscaping maintenance problems. The SuperSlopeMaster is a steep slope mower that does double duty as a versatile machine for immaculate lawn care on even the most challenging terrain…on slopes of up to 40°! The following features make Kut Kwick commercial mowers stand out among other campus mowing tools. 
Zero Turn Radius Operation
The SuperSlopeMaster is a zero turn mower. It can make safe 0° turns even at the top of steep slopes. It leaves no hay rows in its wake as it tackles slopes with up to an 84 percent (40°) grade.
Trim Along Vertical Edges
The Kut Kwick SuperSlopeMaster trims along the vertical edges of concrete at walkways and overpasses. Rear discharge decks reduce the chance of thrown objects, such as clippings, trash, and other debris from hitting cars or passersby.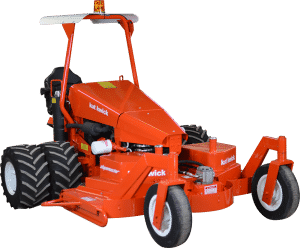 17 Gallon Dual Diesel Tank System
Our mower's 17 gallon (2 x 8.5 gal) dual fuel tanks are located at the front of the machine. Their placement has been designed to help operators avoid fuel line problems while mowing slopes. This tank also allows jobs to get done without refueling. 
Keeps Operators Safe and Reduces Labor Costs
Our mowers are engineered to keep the operator safe and comfortable while working on slopes and during brush clearing. You can't cut grass quickly if you are constantly fighting gravity. Kut Kwick's engineers designed the SuperSlopeMaster with a low center of gravity and dual-drive wheels to keep it stable on steep slopes. This stability, coupled with a tilting seat to keep the operator upright, and a ROPS (Roll Over Protection System) adds to the operator's comfort and confidence. The SuperSlopeMaster is safe, fast, and highly maneuverable.
Kut Kwick reduces labor costs. You can use one operator to cover as much ground as you would with a team of operators with other machines.
Key Takeaways:
Campus presentation is a critical part of securing enrollment.

Kut Kwick lawn mowers are versatile, doing double duty for sports field and grounds maintenance, as well as steep slopes.

Kut Kwick is happy to help you explore how our hillside mowing equipment fits your budget.
Kut Kwick's best mowers for hillsides are priced for school budgets.
Recognizing the financial stress we all face at this time, Kut Kwick has partnered with its vendors and engineers to make the Kut Kwick SuperSlopeMaster mower available at very favorable pricing. Contact Kut Kwick today for more information.