How The MegaSlopeMaster Can Help Airports
Airfield property maintenance is a big job and a critical one for safe and efficient airfield operations. It needs to be performed dependably and on schedule. It takes tough, reliable equipment to do the job right. If your company or airport authority regularly handles airport slope mowing and grounds maintenance, the MegaSlopeMaster can help you get the job done faster, more effectively, and at a lower cost. It is one of the best and most popular commercial slope mowers on the market today, with many satisfied users worldwide.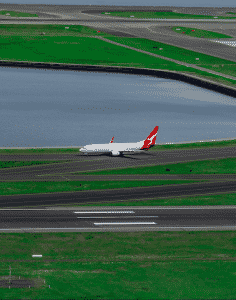 Airports Have Unique Requirements
Airports have physical characteristics that are a bit different than most commercial properties. Though the runways themselves have to be generally flat to accommodate the safe arrival and departure of aircraft, they are often nestled in valleys surrounded by hills and slopes that need frequent airport slope mowing to be kept clear and free of obstructions, including high grass. They usually have a variety of outbuildings and navigational facilities, both large and small, that require agile and precise equipment to mow around them quickly and efficiently. 
Maintaining an airport property requires dependable, heavy-duty equipment that can handle the rigors of long, hard use. The Kut Kwick MegaSlopeMaster is a proven workhorse specifically designed to do the job.
Why The MegaSlopeMaster For
Airport Slope Mowing
?
The MegaSlopeMaster is the larger iteration of Kut Kwick's popular SuperSlopeMaster, offering features and benefits that make it one of the best commercial mowers available for maintaining airfield properties.
Heavy-Duty Power - The MegaSlopeMaster is powered by a big water-cooled 72 HP Yanmar turbo diesel engine, transforming it into a cutting beast that can handle heavy tall grass and weeds, light brush and bushes, and saplings with ease, on slopes up to a 40-degree grade. Its proven reliability and durability minimizes maintenance downtime and costs for

mowing services for slopes

.

Zero Turning Radius - The high-maneuverability of the ZTR capability of the MegaSlopeMaster makes it easy to mow around buildings and other obstructions.

Large Cutting Area - The MegaSlopeMaster is the largest zero-turn-radius (ZTR) steep slope mower in the world. It boasts a huge 88" cutting deck equipped with three independent 3/8" thick cutting blades. Each blade has a hydraulic drive motor, which eliminates the typical single drive belt. Nothing on the market today can mow large spaces faster.

Rear Discharge - The MegaSlopeMaster discharges cut grass and debris to the rear of the mower making it much easier to keep cuttings away from runways, taxiways, and other airport operational areas. It also helps to protect sensitive navigational and communications facilities and equipment which can easily be damaged by flying debris.

Three Blade Types - The deck can be fitted with blades for use in flat, high lift, and brush clearing configurations to handle rough cutting and finish mowing, as well as brush removal (must remove some deck guards when brush clearing), making it extremely versatile.

Long-Running Time - The MegaSlopeMaster features dual 14-gallon diesel tanks mounted on the front of the mower safely away from the operator. This allows it to operate all day without having to stop to refuel.

Safety And Comfort - Equipped with a tilt seat to keep the operator level on slopes and a four-point certified

Roll Over Protection System (ROPS)

and 4 point harness.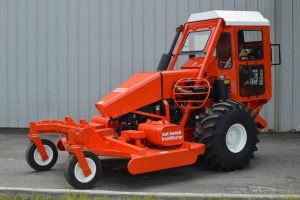 In summary:
Airport slope mowing

has unique requirements.

Equipment with specific capabilities is needed.

The MegaSlopeMaster is right for the job.
Kut Kwick has a full lineup of steep slope mowers for sale. Contact us online or by phone for more information.