How the BrushMaster Helps Real Estate Owners
Real estate can be a multifaceted, burdensome endeavor that involves doing a wide variety of things to ensure that your property is always prepared to be sold. For instance, the aesthetic value of the exterior of your home and property is often one of the most critical aspects of selling a residence. This means that to attract prospective buyers, you must make sure that the outside of your home always looks great. One of the most important ways to uphold the exterior is by ensuring that the landscape looks well-manicured at all times. With that in mind, the following is an overview of the benefits of using Kut Kwick's BrushMaster to keep your property looking its finest!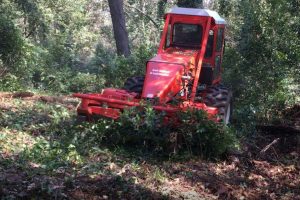 Benefits of Using the BrushMaster to Maintain Your Property
As mentioned, preserving and beautifying the outside of your property is just as important as maintaining the interior of your residence. However, if you do not have the proper land-maintenance equipment, this task could become a challenge, to say the least. Thus, the BrushMaster is ideal for maintaining your property for the following reasons:
Powerful and Efficient
One of the top benefits of using the BrushMaster to maintain your property is it is both efficient and powerful. It performs well on BOTH flat terrains as well as on steep hillsides; it can operate on embankments up to 32 degrees! The BrushMaster comes equipped with a 72 HP Yanmar liquid-cooled turbo diesel engine. It also includes dual hydro-static transmissions, which makes zero-turn capability possible. This is essential for quick and efficient clearing. Additionally, its 88″ front-mounted, triple-blade, rotary deck clears everything it comes across. This makes it an ideal fit for maintaining spaces such as parks, rights of way, lawns, trails, wildland-urban interface areas, survey lines, as well as the removal of the brush. This means that no matter what type of property you are maintaining, the BrushMaster can help you do it with ease.
Highly Dependable
Another major advantage of using the BrushMaster to maintain your property is that it is incredibly reliable. Given the unpredictable nature of the real estate business, having a trustworthy land and brush clearing machine is vital. This is because there will often be times in which you have to quickly prepare your property to be viewed and inspected. Therefore, purchasing the best equipment available for clearing flat surfaces and embankments is a great investment.
Heavy Brush Removal
With that in mind, there might be times when you will be expected to clear and clean the land shortly after purchasing or acquiring the property. In many cases, the brush could be incredibly dense, and without a premium-quality brush clearing mower, this endeavor could take considerable time. By purchasing a high-quality machine like the BrushMaster, you will never have to burden yourself with issues like this.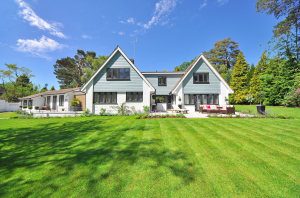 Key Takeaways:
Real estate owners must be able to clean and clear their lawns to ensure their homes and properties always look their absolute finest.
The BrushMaster is ideal for those needing to maintain multiple properties or expected to do so at a moment's notice.
The BrushMaster is one of the quickest and easiest ways to remove brush from properties of all kinds.
Overall, if you are a real estate owner who is looking for a high-quality brush clearing machine, the BrushMaster is an excellent option. Residential brush cutters and slope mowers are essential for maintaining your properties for both the short and long-term. Kut Kwick has a wide variety of products that can help you do just that. Contact us today to get started!