Wildland Urban Interface Fire Protection
This commercial fire fighting version of the BrushMaster machine is used to create fire protection in the area of Wildland Urban Interface. The machine reduces all brush to clippings that lay flat on the ground. Small trees under 4" in diameter are cut down after which their branches are removed and chipped. Wind permitting, the flames of any forest fire that burns up to these mitigated areas will drop to the ground, burn with a low slow moving flame, smolder, or go out. Fire fighters can extinguish anything that remains with a tamp. Trees larger than 4" are left standing because the higher canopy typically will not catch fire once the brush beneath it has been eliminated.
The mechanical removal of 100' to 400' of understory is the most attractive and cost effective method for dealing with fire containment in the areas of Wildland Urban Interface.
The land clearing machine will reduce the undergrowth in typical southern forest land at a cutting rate of 1 – 1 ½ miles/hour at a 7 foot width. This equates to 1 – 1 ½ acres per hour. A single machine cutting 8 hours a day for 3 days will produce a fuel break of 1 – 1 ½ miles long by 200 feet wide. The FireMaster® slope mower operates on steep slopes up to 32 degrees with zero turn radius maneuverability.
The cut material mats the forest floor making it passable for vehicles to travel over cut areas, which is an advantage over plowed areas. The root structure is not damaged preventing erosion and mud slides. New growth returns which is not readily flammable for about one year. Animals and birds can get to the ground to feed. They are attracted to and thrive in areas cut by the Firemaster.
Wildland Urban Interface - for protection of homes and businesses
Cutting fuel breaks - for fighting forest fires
Pre-fire suppression - and initial fire attacks
Cut : 88" cut, hydro-static, rear discharge, out-front rotary
Cutter Type : Rotary - 19" x 7" puncture proof casters support the cutter deck from the front of the machine
Cutter Assembly : 1/4" thick steel cutting deck
Cutting Height : 4" to 10" height adjustment
Blades : Three (3) 3/8" thick flat blades, with 1 1/2 diameter shafts
Engine : 72 HP Yanmar Turbo-Charged diesel engine, water cooled
Slope : Slope mowing to 0° to 32°, designed and tested. Low center of gravity for safety on slopes
Steering : Self propelled skid steered through twin, closed loop hydraulic drive systems
Maneuverability : True "zero turn radius" (ZTR)
Tires : 44" x 18-16", 8 ply rated tires, dual drive wheels on each side of the rear of the machine (2 sets of two wheels)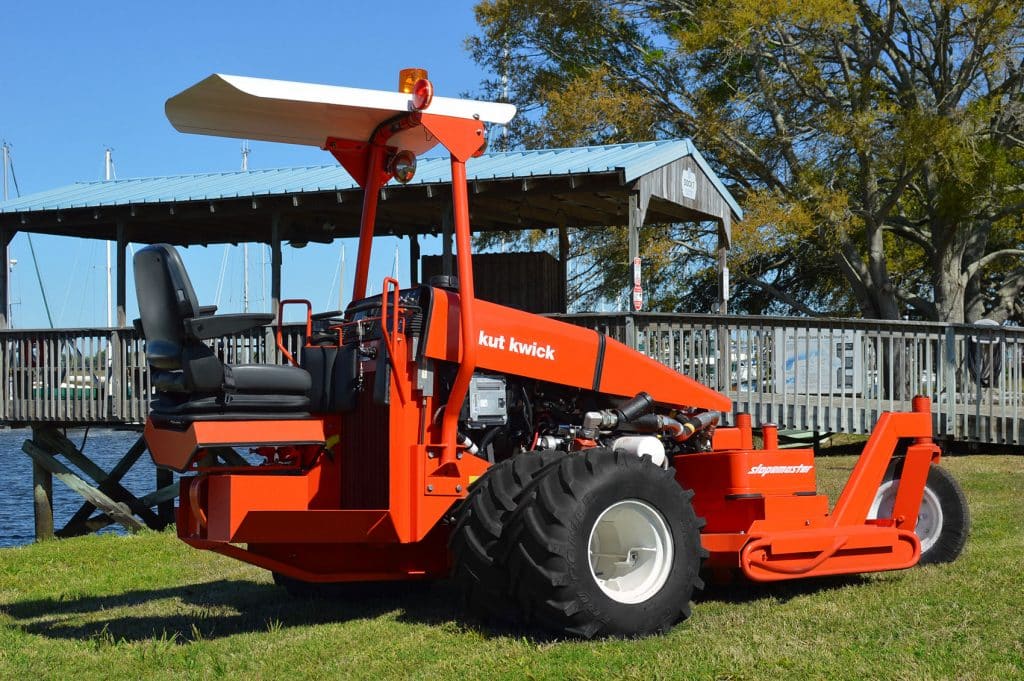 Seating : Operator is seated at the rear extremity of machine for safety
ROPS : Four point certified Roll Over Protection System (ROPS) with retractable seat belt
Hydraulics : Independently powered hydraulic skid steer wheel drives with hydraulic pumps and motors, and hydraulically driven cutter deck
Oil Reservoir : 52 gallon hydraulic oil reservoir, oil/air separator, to prevent foaming, overheating, and water intrusion from condensation
Diesel Fuel Tanks : 28 gallon; dual diesel fuel tanks on the front of the machine, away from the operator, designed to operate on steep slopes
Cabin Configuration: All FireMaster machines are factory equipped with a recirculating closed system air conditioner to protect the operator from smoke and other contaminents. The cabin enclosure has metal framed doors. The door windows, as well as the rear opening, are all covered with Lexan sheeting. The key windows are covered by metal guarding.
Fire Protection Package :GPS for navigating to areas to be cleared, to fires and/or lightning strkes, and to roadways for escape routes. Fire Shelter Tent (large) - Forest Service Spec 5100-606. Forward and rear facing work lights
Remove underbrush and trees up to 4" in diameter
Reduces undergrowth into small cuttings that lay flat on the ground, deteriorate in weeks fertilizing the soil
Does not damage the environment
Environmental friendly Trees, animals, and birds thrive. Roots are not damaged so that they can continue to stop erosion.
Improvement of forested areas to create and maintain areas where appearances are important
Prepare and maintain areas to be used by people (camp grounds, parks, nature trails)
Preparing for development of property
Preperation for sale of property
Fire Protection and Control small cuttings laid flat on the ground can not blaze because they are deprived of oxygen
Wildland Urban Interface clearing areas near homes and businesses
Fuel Breaks Clear access to forest first and remove brush to stop or control fires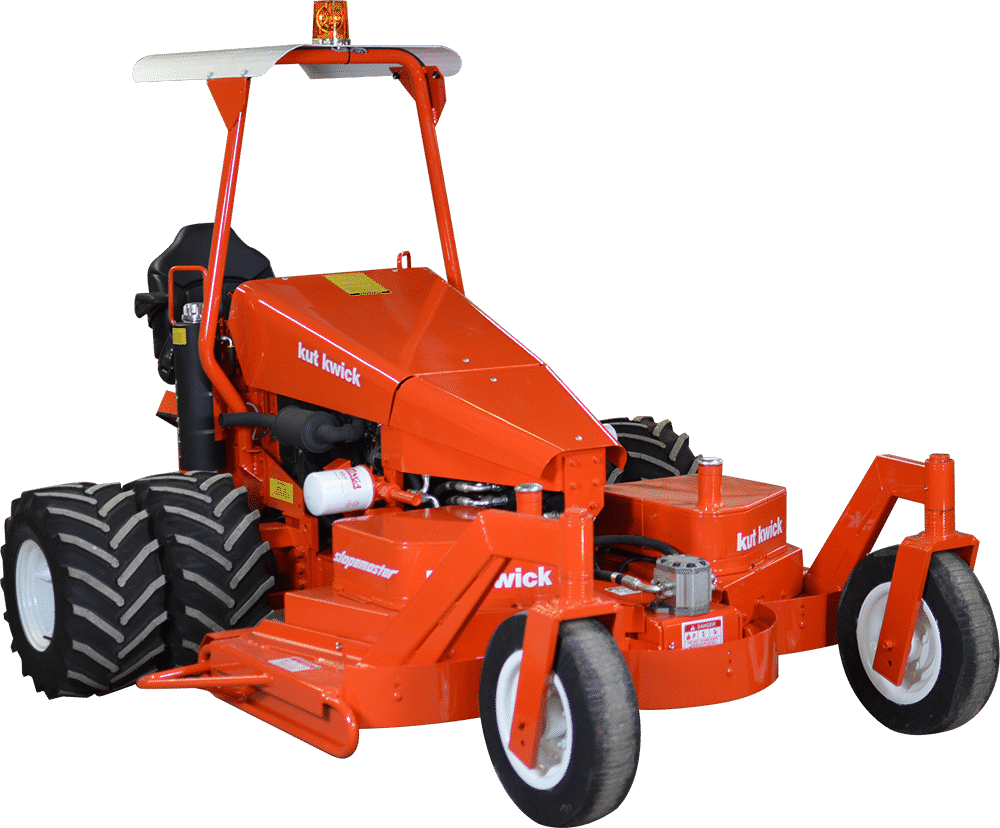 (1) If you don't have a FireMaster, you're not clearing land as quickly and efficiently as you could be!
Clears 1 1/4 acres in an hour or less
Cuts down everything except desirable trees over 4" in diameter - cutting all brush into small clippings that lay flat on the ground for appearances, rapid decomposition and for fire protection
Clears all of the heavy brush vines, palmettos, and small trees from forested areas – while complying with the environmental demands of protecting the larger trees for possible retention
Maneuverable "zero turn radius" machine that effectively clears the area, so that little or no hand labor is required
machine that requires very little maintenance - while providing long life
The FireMaster® commercial slope mower was designed by an engineer-educated, real estate developer since the other equipment on the market simply could not perform the task. The FireMaster® was specifically developed to clear property quickly – up to 5 times faster than the competition – leaving an attractive appearance to the land while retaining larger trees.
The FireMaster® also works on slopes up to 32° and comes standard with a powerful 72 HP Yanmar, liquid cooled diesel engine and dual hydrostatic transmissions that allow the zero turn capability that is so necessary for efficient clearing. The 88" front mount, triple blade, rotary deck clears everything in its path, making this machine perfect for right of ways, parks, trails, survey lines, wildland-urban interface areas and the removal of brush for fire protection.
The FireMaster® is so reliable that it is supported by a one year warranty.
For highest efficiency, lowest labor, minimum maintenance and longest life – get the FIREMASTER®!