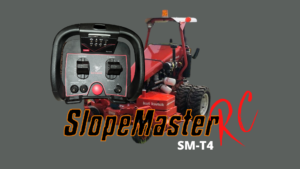 Industrial Grade Slope Mower...with a twist.
New for 2022, the SlopeMaster SM-T4RC revolutionizes the way you mow your steep slopes. This version of the SlopeMaster SM-T4 Series packs all the amazing features of the SM-T4E, and adds remote control. That's right! You can now safely cut grass and weeds on flat terrain, or sloped surfaces up to 40° as always. But when the terrain gets too tough to handle in Manned Mode, just flip the switch and grab your remote. With its low center of gravity, wide stance, and increased stability, you can mow your tough slopes or other hard to reach areas safely, and with ease.
High Power, Low Profile
The SM-T4RC has a powerful 25 HP Yanmar water cooled turbo diesel engine which drives a 1/4" thick steel, out-front, 60" cutting deck with three 3/8" thick blades. The skid steering mechanism features twin, closed loop hydraulic systems that offer the superior maneuverability and power required to cut steep slopes. This steep incline mower design offers a huge advantage over steering wheeled machines on both sloped and flat areas, with the added ability to remotely mow difficult areas in remote control mode.
Zero-Turn-Radius
With the ability to transversely cut on a 40° slope, this true zero-turn-radius mower can trim around objects, and mow a swath 60 inches wide without leaving the slope! It will cut more area in a fraction of the time than your traditional tractor slope mower– and with maximum safety.
Safety Features
The SlopeMaster, like its larger counterparts, is built with safety in mind. If the operator inadvertently leaves the seat, the mower is immediately braked, and the engine is shut off.
The location of the operator's seat is also a safety feature, with the tilting seat placed at the rear extremity of the machine (farthest point away from moving parts of the engine or cutter deck) for easy dismount in an emergency situation.
Another safety feature is the front-mounted deck, so the operator's eyes are always looking forward. The deck supports the chassis from the front, while pivoting side to side to follow the contours of the turf.
Three Blade Styles
The SlopeMaster offers maximum versatility as both a rough cut and a finish cut mower. The standard flat blades are best for rough mowing. Flat blades allow the most powerful cut in heavy growth. The machine can be quickly converted to the optional high lift blades for finish mowing. The medium lift blade offers the best of both worlds. For the best results, the deck guards are lowered for maximum lift on the material to be cut.
Remote Control
The remote control is designed to mimic the onboard Komfort Kontrols joysticks for easy transition from one mode to the other, and has a range of about 125 yards. It comes with two rechargeable batteries and a portable charging station. One battery remains in use while the other remains charging. Combine this with the standard dual fuel tanks, and you can mow all day long on a single full fuel load!
The SM-T4RC employs cutting edge SMART (Safe Manned and Remote Technology) features, including our patented Tip-up Stop to prevent rearward rollovers, an SAE-J1040(c) Roll Over Protection System (ROPS), and an Operator Detection and Emergency Shutoff System that automatically shuts off your mower's engine when certain conditions, such as operator presence on the seat while in Remote Mode, are met.
Designed for All-Day Mowing
Two batteries and dual fuel tanks-mow all day long on a single full fuel load by keeping one battery in use and one in the included portable charger.

Adjustable tilting seat with suspension to keep the operator upright and comfortable

Rear discharge for reduced thrown object risk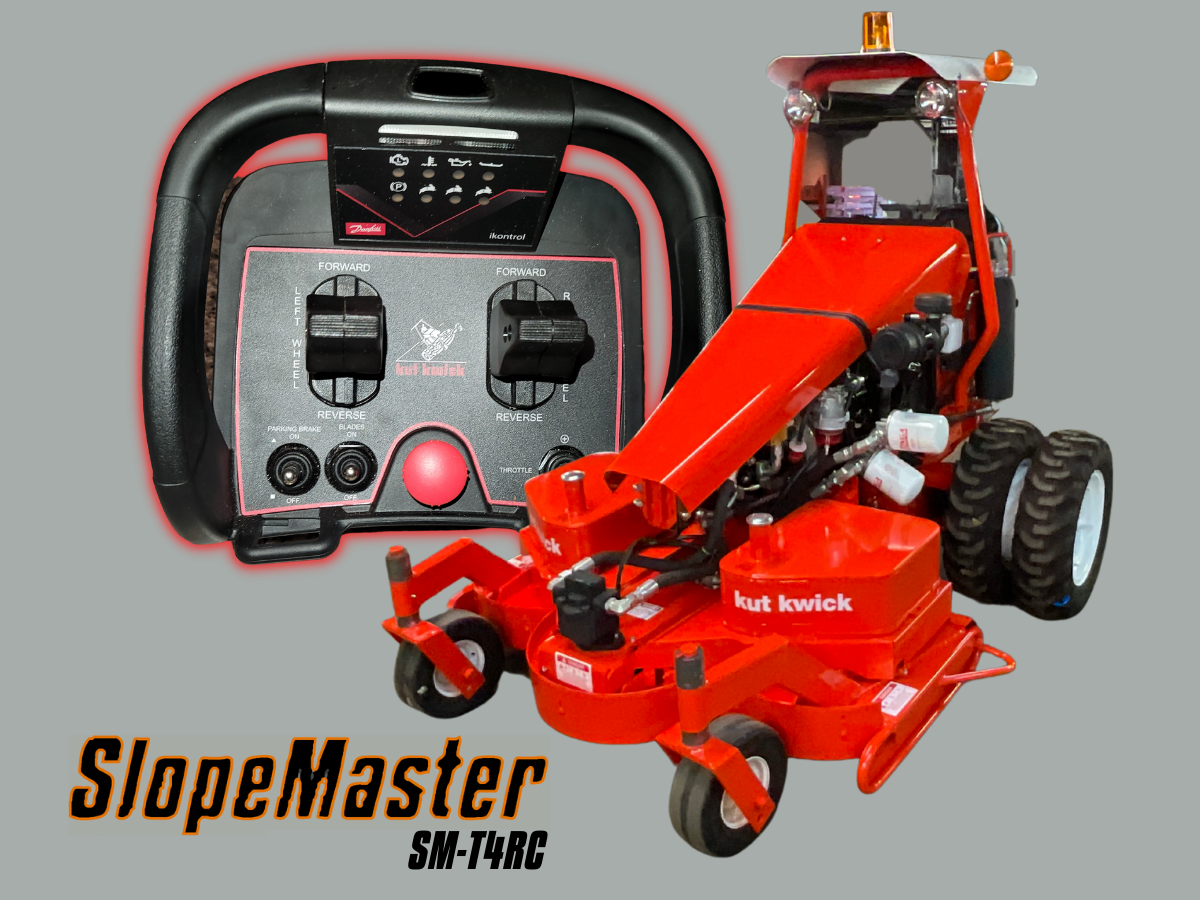 SMART Features(Safe Manned and Remote Technology)
Tip Up Stop to prevent rearward rollover

ROPS (Roll Over Protection System) produces "cone of protection" in the unlikely event a machine does roll over sideways

Lanyard connected kill switch disengages engine upon operator dismount

Operator Detection and Emergency Shutoff System automatically shuts off mower under certain conditions, such as driver presence on seat when engaging Remote Mode
All options are factory installed at time of order – except for blades which can be ordered separately
Cutter Assembly : 1/4" thick steel cutting deck.
Cutting Height : 1.5" to 5.5" manually adjustable cut height.
Blades : Three, 3/8" thick hardened steel flat blades.
Deck : 60" wide, hydro-static, rear discharge, out-front rotary.
Slope : Slope mowing 0° to 40° (84% grade), designed and tested. New for 2022-new wheel design for lower center of gravity, offering increased stability on slopes in both Manned and Remote Modes.
Engine : 25 HP Yanmar turbo diesel engine, water cooled.
Cutter Type : Rotary - 12" x 4" semi-pneumatic casters support the cutter deck from the front of the machine.
Diesel Fuel Tanks : 17 (2x8.5) gallon dual diesel fuel tanks on the front of the machine away from the operator. The fuel tanks are uniquely designed to eliminate the fuel disruption problem that occurs with steep slope mowing.
ROPS :  Certified Roll Over Protection System (ROPS) with retractable seat belt. *Always ensure seat belt is properly affixed and safety lanyard is properly connected prior to engaging engine.
Patented design : For high production, low maintenance, long life, safe steep slope mowing. Average fleet life of 10-12 years.
Tilting Seat : Seat situated at rear extremity of the machine; tilts to keep operator upright to safely, comfortably operate on steep slopes.
Steering : Skid steered through twin, closed loop hydraulic drive systems.
Maneuverability : True zero-turn-radius (ZTR), joystick controlled, electronic steering (Komfort Kontrols). Super responsive and designed for ease of use and decreased strain on operator's hands and arms vs. traditional manual controls. Remote control is designed to mimic the controls on the machine, making it easy to control in either mode.
Oil Reservoir : 14 gallon hydraulic reservoir with oil/air separator, to prevent foaming, overheating, and water intrusion from condensation.
Hydraulics : Independently powered hydraulic skid steer wheel drives with hydraulic pumps and motors; hydraulically driven cutter deck.
Machine Weight: 2,820 lbs
All options are factory installed at time of order – except for blades which can be ordered separately
High Lift Blades: 3/8" thick.
Medium Lift Blades : 3/8" thick.
Rotary Beacon : in addition to the flashing light included in light kit above.