RoadMaster® RM80-88D/RM80-187D
Features of the RoadMaster®:
Model No. RM 80-88D/RM 80-187D

Cut: 88" or 187" with towed cutter option
Cutter Assembly: 1/4" thick steel cutter deck
Cutting Height: 4" to 8" height adjustment
Blades: Three (3) 3/8" hardened alloy steel blades
Engine: 80 HP Cummins, industrial, cast iron, overhead cam, water-cooled diesel engine
Speed: 0 to 11 mph (low/mowing range)
0 to 24 mph (high/transport range)
Slope: 0° to 31° slopes, designed with low center of gravity for safety on slopes, 20° with optional Rear Towed Cutter attached
Steering: Steering wheel directs the two 6" x 16", 6 ply wheels mounted on the front of the cutter deck.
Tires: 38" x 18-20", 8 ply rated tires; tractor tread tires for best traction in rough or wet conditions
Seating: Tilting seat with restraining arms, to maintain level seating on slopes
ROPS: Four point certified Roll Over Protection System (ROPS) and retractable seat belt
Cab: Hard top canopy for sun protection
Oil Reservoir: 58 gallon hydraulic oil reservoir with oil/air separator, to prevent foaming, overheating and water intrusion from condensation.
Diesel Fuel Tanks: 28 gallon; dual diesel fuel tanks on the front of the machine away from the operator designed to fuel the engine on slopes

Click to see video (5 1/2 minutes)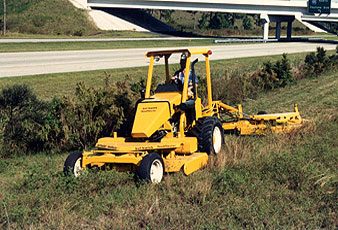 RoadMaster RM80-187D
Highest production in large area mowing
Slopes to 31°, transport at 24
Click here to see how Better Roads™ rates Kut Kwick Tractors!
The RoadMaster® – an industrial strength mowing tractor!
The Kut Kwick RoadMaster® is specifically designed for high production, low maintenance mowing of roadsides, airports, parks, and other large areas. This front mowing tractor cuts a full 7 foot swath, and the optional hydraulically-powered towed cutter deck attachment increases the cut to a 15.5 foot path.
The RoadMaster®'s patented technology provides for commercial mowing in medium to rough mowing applications … and on slopes of up to 31°, as well as flat areas. This unique tractor allows the operator to mow grass that is 8" to 2' high above the ground with a finished cut from 4" to 8", depending on the mower height adjustment.
For safe operation on slopes, the RoadMaster® has an extra wide wheel base, a low center of gravity, and tip-up protection. The RoadMaster® also features a special cockpit and tilting suspension seat with restraining arms and retractable seat belt. The engine is mounted in the center of the machine and is exposed to assure adequate cooling and ease of maintenance.
The RoadMaster® is designed with the cutter deck out front so that the operator can trim on either side while looking straight ahead. This design feature was incorporated into the machine to deal with the very dangerous operating procedure that cannot be avoided, when roadways are mowed with farm tractors pulling mower attachments. Farm tractor operators continuously look to the rear, causing numerous accidents from the inability to watch for obstacles coming up ahead.
All the controls on the RoadMaster® are ergonomically located for safety and convenience. The machine has a steering wheel type of steering mechanism for operator comfort in applications where extreme maneuverability is not required.
Features | Options & Accessories | RoadMaster Frequently Asked Questions
---
Model RM80-88D
RoadMaster® – Tractor only - designed with no trailer, for a big mower with the lowest cost in general purpose mowing where steering wheel control is the preferred design.
| | |
| --- | --- |
| Mows slopes to 31° | Tilting seat for operator comfort |
Model RM80-187D

RoadMaster® - with quick connect, trailered Rear Towed Cutter for high production on slopes up to 20°. Detach the trailer and mow slopes to 31°.

The optional Rear Towed Cutter includes two additional cutter decks, each equipped with two 3/8" hardened alloy steel blades. The towed cutter attaches or detaches to the mower without tools in 1 1/2 minutes. Hydraulic controls in the cab allow the operator to raise, lower and engage the blades on each towed deck independently. This feature allows the machine to trim along fences, barriers, and other objects, where tractor drawn mowers cannot trim effectively.

The special trailer-hitching mechanism has been designed to prevent "fishtailing" and "jack-knifing" when the trailer-towed mower combination is driven at higher speeds. The RoadMaster® is equipped with a special transport speed mode that allows it to travel at 24 mph for efficient relocation, eliminating the need for a trailer.

R

oadMaster RM80-187D
Special towed cutter eliminates
jackknifing when traveling at 24 mph
| | |
| --- | --- |
| Detach or re-attach the towed cutter in 1 1/2 minutes | The only wide cut mower that can trim effectively |
---
Options and Accessories:
Rear Towed Cutter – Cutting width: Rotary – 15' 7" (187"). Hydraulic controls in the cab allow the operator to raise, lower and engage the blades on each (left & right) deck independently. Towed cutter attaches or detaches from tractor, without tools, in 1 1/2 minutes. The trailer includes a patented lift mechanism that prevents scalping in turns.
Enclosed Hard-Panel Cab – With air conditioner and/or heater
The RoadMaster® design is patented.
---
PDF Brochure
If you'd like a full printable PDF brochure, please click below:
Updated 2/18/2011